If you are hooked to computer gaming, live music, or live performance, you need to invest in a good-quality headset. Nothing brings that virtual reality experience when you're in a live performance more than a great set of IEMS. Having good quality earphones serve to give you the best sound output.
Headphones have also become an important factor in the workplace. You can receive instructions from your boss while your hands are working on other things. This review will give you an insight into the best IEMS under 200 earphones. This information will help you when choosing a perfect IEMS for your use.
Which in ear monitor system is best?
---
---
What should I look for when buying IEMS?
---
If you're looking to get yourself a set of IEMS under $200, here's a guide to help you on the features to look for:
The number of drivers – Basically, in-ear monitors with a single driver can function well. However, if you need a better definition of high lows – perfect for drummers or bass players – then IEMS with three drivers are the best. This is because each driver will handle a particular frequency; low, middle, and high frequencies. The result is a clearer sound definition.
For IEMS, the number of drivers ranges from one to eight. As a guide, the higher the number of drivers, the greater the clarity and quality of sound.
Detachable cable – Don't take this for granted. Having a removable cable means that if the cable gets damaged you will not dispose of the whole set of your expensive IEM device. You'll simply buy a new pair of cables to replace the damaged set.
In addition, detachable cables provide the convenience of changing for a longer or shorter cable. This is especially possible with MMCX connectors available in most detachable cables. You can even incorporate an inline remote for your iPhone.
Silicone or foam ear tips? – Silicone ear tips are sweat-resistant and have a better grip. These features are suitable for an active on-stage performance. The only downside is its less sound isolation compared to foam ear tips.
Foam ear tips have a better sound isolation feature than silicone. However, foam ear tips are not sweat-resistant. They can also feel quite uncomfortable if you wear them for a long time duration due to their slightly higher density than silicone ear tips.
Customized or universal-fit earplugs – which one is better? – Customized earplugs take into consideration the specifics of your ears. That said, even the spacing of the drivers will be better enhanced in customized earplugs. The result is a clearer sound definition than you can get in universal-fit earplugs.
Curved or straight IEMS – If you need IEMS that best hold on to your ears, the curved configuration is suitable as it wraps over the back of your ears. This also serves to hide away the cables from a direct look. However, if you're less comfortable with over-the-ear IEMS, go for high-quality straight IEMS
---
5 Best IEMs under 200 reviewed
---
Spoilt for a choice of a good set of earphones that offers you the best sound output? This could be a good choice for you as it comes with multiple accessories. Its 5 balanced armature response from low to high frequency gives you a balanced sound feature.
High-quality sound feature – This type of earphone has an inbuilt 5 balanced armature response which gives a clear sound. You won't struggle to hear what the person on the other side is saying. It's also useful when you are getting instructions while playing computer games.
Comfortable to use – From its light body design to soft ear tips, this brand of earphones is comfortable to the ear. It provides good noise cancelation that leaves only smooth sound to pass through your ears. This ensures that your eardrums are kept safe.
Lightweight – Its featherweight makes it an ideal headset to carry around. You can use it to make calls or listen to music all day without feeling any inconvenience due to its lightweight. If you're a musician, this is good for your stage performance.
Removable cable – When the original cable is broken, you won't need to buy a new pair of earpieces. It has detachable pins that make it easy for you to replace. You can upgrade it with much ease or connect it to a Bluetooth cable.
Advantage
Excellent music sound feature
Suitable for all types of music
Compatible with Bluetooth cable in case of breakage
Good noise cancelation
Fit to be worn all day
Disadvantage
Does not have an inbuilt microphone
A little bit heavyweight
Summary: If you're looking for high-quality earphones, this is an ideal choice for you since it's customized to fit your use. It's good for the protection of your ears as well giving you that superb experience.
---
M6 PRO is a special earphone designed for stage performance but built for the road. This is an upgraded model with improved sound and built quality with MEE's audio first-ever optional personalization. It has inbuilt in-ear monitors that boost sound quality.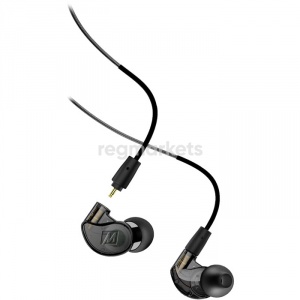 Superior sound quality – This M6 PRO has an advanced refined sound with a more accurate midrange and smoother natural treble. When you use these earphones, you'll get clear sound output which makes your music enjoyable. It gives a soothing sound to your ears with its soft earbuds that add comfort.
Very comfortable – It's made of highly flexible memory wire with seven pairs of ear tips to enhance comfort and fit all ears. You can comfortably wear it on stage or while traveling without feeling inconvenienced. The cable is flexible enough to fit over your ears without worrying about breakage.
Has sound-isolating design – Its ear tips have Comply T-Series memory foam that filters external sound which leads to improved sound. This unique make enables you to listen to music on safe volumes since you won't have to keep adjusting the volume. You'll enjoy listening to your favorite hits without the worry of any damage to your ears.
Built to last long – This brand of earphones has been carefully engineered to adapt to the real world. It offers reliability and has inbuilt sweat resistance. With all the rapid stage movements and sweating, this could be what you need. In case of broken cables, you have an opportunity to replace them since they're detachable.
Advantage
High sound quality
Very comfortable over the ears
It has a great noise cancelation feature
It lasts longer giving you value for money
Compatible with phones and tablets
Has inbuilt microphone
Disadvantage
No low ends, but has high and mid frequencies
It's over the ear design may not be appealing to all
Summary: With earplugs that comfortably fit in your ears, you don't have to worry about dropping them accidentally. The memory wire keeps the plugs from pulling out even while at high speed. It has no exaggerated sound other than that which you are expected to hear; a good choice for studio engineers or for active use on stage.
---
For improved quality sound and listening you should consider purchasing SonicPro headphones. Its design is technically geared towards superior sound, functionality, and perfect fit. The Audio-Technica headphones have earplugs that perfectly fit in your ears enhancing the sound quality by blocking external noise.
Pure sound reproduction – It's fitted with single balanced armature drivers to improve sound details suitable for sound engineers. When you want to listen to your music mix, stereo or your own voice on stage you should invest in this type of headphones. It gives you the music pure as it is.
Very comfortable – The curved pipe grips well on the ears providing safety to your earphones. They also fit in the ear hence sealing within the ear for ultimate in-ear monitoring. It is easy for you to adjust your voice while on stage without shouting.
Detachable cable – Formable cables enhance fit around the ear and convenience. Should these cables wear out, you can easily replace them without interfering with the sound quality. This also saves you the burden of purchasing a whole set of headphones.
Advantage
Better noise isolation improves sound quality
Detachable cable means you can replace it whenever you want
Reduced acoustic radiation resistance
Perfect in-ear monitoring
Light and comfortable with a good grip on your ears
Disadvantage
Cable rigidity can be a nuisance if worn for a long time duration
The bass sound may not be quite satisfactory
Summary: If you are considering buying a new pair of headphones, this could be the best option for you. It gives you a very high-resolution sound ensuring you get clear vocals and stringed instruments. Its earplugs perfectly fit in your ears, therefore, blocking any external nuisance.
---
Whether you are a drummer, musician, or singer, this is a great piece of headphones for your on or off-stage use. It is also a good choice for daily personal use when making phone calls or listening to music from your computer, tablet, or phone. It is very comfortable with a secure fit and balanced sound as it has been designed with the latest monitoring technologies.
High performance – With its balanced highs, mids, and bass sound, this in-ear monitor is preferred by musicians, singers, and drummers, for its superb monitoring systems which improve performance. Studio mixing engineers can hear clear audio details which enhances better audio products. If you want to listen to vocals and stringed instruments, this type of earphone will guarantee you the best sound reproduction.
Good noise isolation – The ergonomic earpiece nose coupled with soft silicone ear tips creates a good seal that is enough to block up to 35dB of noise. You can clearly listen to your music or make phone calls even when you are in noisy surroundings. It is also ideal for your stage performance where you need to concentrate on specific audio.
Detachable connectors – It has detachable MMCX connectors that make cable replacement or upgrade very convenient. You can also use compatible cables at your pleasure depending on your desired audio output. You can use cables for HD music, hands-free calls, and Bluetooth wireless use.
Very comfortable – It has an adjustable ear hook that can be accustomed to the shape of your ears so that the earbuds can securely fit. It is light enough that you can wear it all day without noticing or feeling any inconvenience. The soft earbuds provide extended comfort without damaging your hearing.
Advantage
Great noise isolation for clear audio details
Comfortable soft earbuds
High performance from dynamic dual drivers
Inline microphone making phone calls convenient
Flexible earhook to enhance secure fit
Very light so you don't feel any inconvenience
Disadvantage
Limited bass with an uneven sound frequency
The foam ear tips are not sweat resistant
Summary: With balanced highs, mids and subwoofers this is a real deal for studio mixing engineers since it gives clear audio details for easy editing. It has an inline microphone and control which allows you to pick phone calls as well as control music without necessarily removing your phone from the pocket.
---
Immerse yourself in high-fidelity audio by getting your own SIMGOT EM2 powerful earphones. It has a combination of mixing multiple acoustic driver technologies that give you a balanced full sound reproduction. It comes in five different semi-transparent colors which give you an opportunity to choose the color of your preference.
Superb audio quality – The balanced armature and dynamic drivers blend well to give you pure and clear sound reproduction. With these headphones, you will enjoy listening to your music without any distortion or disturbance to your eardrums. It's fit for studio sound engineers, stage or personal use.
Noise isolation and great sound – Its cable has a more efficient high-quality transmission which brings out a clear loud sound with bass. It has special ear tips that block external noise making it convenient for you to listen to music even in a very noisy environment. The sound that hits your ears is pure and desirable.
High performance – SIMGOT's cables are designed to use high-strength, highly flexible, ultra-low resistance tensile wire for enhanced durability. It is twisted to reduce cable noise and keep the cable lightweight, flexible, and comfortable over the ears. It can be a perfect choice for the road, stage performance, or personal listening.
Convenient removable cable – It has a compatible detachable cable system which you can replace at your own pleasure or if broken. Its cables are silver braided making them durable for longer use, therefore, giving you value for your money. The 3.5mm Aux cable is compatible with all types of smartphones and digital audio players.
Advantage
It's lightweight making it very convenient
Great sound isolation enhances sound clarity
High performance
Superior sound quality
Detachable cables can be easily replaced
Disadvantage
Nonstandard earpiece tubes
No inline control or microphone
Summary: SIMGOT EM2 in-ear headphones have high resolution to ensure you get a balanced and accurate sound reproduction free of any obstruction. It is loud enough even at 1 mark volume letting you enjoy the music without harming your ears. The comply memory foam ear tips give comfort and further provide maximum noise isolation for a superior audio experience.
---
The final words (Summary)
---
There you have it. No doubt, this review of the best IEMS under 200 dollars will help you in choosing the most suitable product that meets your needs. It's worth noting that you should consider each product based on its specs and benefits that will give you the ultimate listening experience. Whether you're a sound engineer, a live performer, or a music enthusiast, you'll find this guide helpful.