Yamaha is a pro audio company that has been around for decades. They have earned a reputation for making excellent products, especially headphones, speakers, and microphones. The Yamaha RH1C is a professional-grade headphone for studio use. It is fairly inexpensive and provides much better performance than the average headphones in a similar price range, so it may be a suitable choice for those who are interested in getting a good-sounding pair of headphones for monitoring without spending too much money. This Yamaha RH1C review is based on my personal experiences when using the headphone. Hope you enjoy reading this review and find it useful!
Features with benefits
---
Sound quality- The sound quality of the Yamaha RH1C is pretty good for a pair of headphones in this price range. The overall tonal balance seems to be "warm" (dark) with a slight emphasis on the midrange and the bass is not overly emphasized. It may be a little more laid back than the average "neutral" sounding headphones, but it does not lack detail and it is generally a very pleasant sound.
The bass is extended and it is tight and punchy in the right way so that it doesn't sound overly emphasized. It has a good sense of speed with an impactful and tight bass. Overall, a very nice sounding bass that is slightly warm and leans towards the mid-bass frequencies.
The midrange has a nice "forwardness" to it. Voices are clear and forward with good presence and detail is pretty good for a pair of portable on-ear headphones. The clarity is not quite up there with the best headphones, but it is certainly above average and you should be happy with the sound quality of the RH1C if you are mostly listening to music in the genres of pop, rock, jazz, and country.
Frequency Response & Sensitivity- The frequency response of the RH1C is nicely linear and smooth. There are no weird dips or spikes and the bass extends down to about 30 Hz- while, of course, it won't have the impact and slam that sub-bass headphones deliver in the 20 Hz – 50 Hz range. But the bass is detailed and it is more than enough for most music genres. The sensitivity of RH1C is rated at 91 dB/m W and it has a 32 ohms impedance, so I think most mobile devices should be able to drive the RH1C sufficiently.
Design and style- The Yamaha RH1C is a professional studio headphone. Its design does not scream for attention, nor is it very discreet, and many people might not like the looks but I do find it to be pretty stylish. The glossy finish of the cups and headband is on point, as well as the silver accents.
If you care more about the sound quality than the looks of your headphones, then this is a good thing. The RH1C does not look like some overly flashy headphones with a very unique design. Instead, it looks like a headphone that would fit well in the studio environment, and you would be right.
Fit and Comfortability- The fit and comfort of the headphone are fantastic. The cups are very large and it has some nice padding for your ears that should be good enough for even those with larger ears. The headband feels decent as well, but it is not a one-size-fits-all design. My head size is around 7-7.5 inches, and the headband was slightly too big for me so I had to use an extra piece of cloth to make it tighter. This is a common problem with most headphones, so I don't think that this headphone has anything to be embarrassed about in terms of fit and comfort.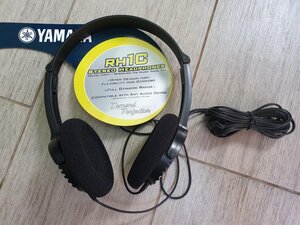 Yamaha RH1C Quote
---
The Yamaha RH1C headphone is a room-filling sound that you can enjoy without the pressure of wearing them and is the most comfortable listening experience you could imagine.
Connectivity- The Yamaha RH1C has a long cable with an industry-standard mini-jack that can be used for practically any audio device with the corresponding input. It also comes with a 1/4″ adapter that you can use if you want to plug it into a professional audio interface. I wish that the mini-jack wasn't so long since it felt too tangled up when it was connected to my computer, but most people probably won't have this problem.
Compatibility- The headphone is compatible with most audio devices that are on the market today. It can be used for laptops, CD players, DAPs, and other portable audio devices that have a 3.5mm input as well as home audio systems and professional mixing consoles with balanced inputs that use the 1/4″ connection.
Perfect for- I would recommend the Yamaha RH1C to fans of the following genres: pop, rock, jazz, country, and EDM. The bass is tight, controlled, and punchy, with good warmth. The midrange is clear and detailed enough for you to hear the details in music, but it does have a slightly recessed upper midrange and treble. I don't think it's a problem, as the details in those ranges are subtle anyways. The treble is smooth and well extended, but it does not have the sparkle that I like. This is a bass-oriented headphone so if you listen to a lot of rock and metal, then you might want to find an alternative.
Disadvantages
---
The Yamaha RH1C is an average headphone in terms of transparency. It's not as transparent as some of the other headphones I have listened to, but that's not really a problem. It still sounds clear enough for most people. Another thing that I noticed was that the bass is not very tight in the sub-bass region. So if you're listening to something with a lot of deep basses, it might not sound as good as it should. One more thing that I personally don't like is the stock cables, they feel very flimsy. I know you probably won't be using them anyway since it comes with a 1/4″ adapter, but that's still a con.
Conclusion
---
The Yamaha RH1C is a fantastic mid-range headphone that I can easily recommend to anyone looking for a very good headphone for their studio recording. It has all the qualities that you would want and expect from a high-end monitoring headphone. It is comfortable, it has an accurate sound signature, a good cable and it is built like a tank. The Yamaha headphone does cost a grand, but I think it's worth it. Hope you find the Yamaha RH1C headphone review informative and choose this model.