5 Best Headphones For Guitar AMP In 2019
---
Sound Revealer is supported by the online readers. When you buy through the links on this page that may make some affiliate commission for us. Learn more
---
Rank #1
Our Top Pick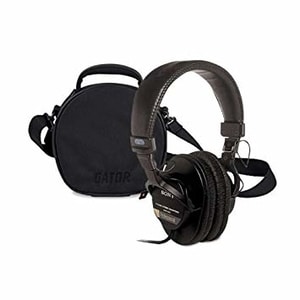 A quality pair of headphones used together with a guitar amp can make a guitarist enjoy the quality sound output. Headphones can connect to any guitar be it electric or bass. They allow a guitarist to hear the instrument's sound output and you can tell any distortion in its highs, midst or lows.
We have a review of five of the best headphone for guitar amp you can purchase. The article makes the selection process to be more straightforward for a buyer. Also, there is a list of factors which show you what you need to consider when purchasing a pair of headphones.
---
A quick look at the best guitar amp headphones
---
| Rank | Photo | Brand | Price |
| --- | --- | --- | --- |
| 1. | | Sony | |
| 2. | | Status Audio | |
| 3. | | Audio-Technica | |
| 4. | | Beyerdynamic | |
| 5. | | Sennheiser | |
---
5 Best Headphones For Guitar Amp Reviewed
---
Sony's MDR-7506 is one of the favorite headphones for sound engineers and guitarists across the world. Guitarists need headphones which will give the best sound output from their equipment. The MDR-7506 offers noise isolation and superior comfort due to the quality padding material.
Premium Sound – The closed back headphones are an excellent pick for critical listening and also professional studio production. The 40 mm drivers containing neodymium magnets are capable of producing impressive sound.
The bass from this pair of headphones is deep. The midst are well-balanced offering a quality output even at high volume levels. Its highs are well balanced and sound amazing for recording, live sounds and also monitoring.
Long Cable – The MDR-7506 cable is not detachable and is long enough to give you adequate freedom of movement you need. If you stretch out the cord, it can reach a length of 3 meters. Once coiled, the cable is 1.8m long which is okay for free movement when you are using your guitar.
Design – The ear cups are well padded and soft hence reducing the pressure on your ears. The design makes these headphones comfortable for prolonged use. The pads are soft and reduce the stress created by the headband increasing its comfort.
It also comes with a closed-back design which is an excellent noise canceling feature. It blocks all outside noises and ensures there is a minimal sound leak. Its canceling feature allows one to get the best sound quality from their guitar.
Advantage
It comes with a foldable design and its lightweight
Long cable
Powerful audio output
Great noise canceling feature
Adjustable headband
Disadvantage
The fold ability of the headphone is poor
Fixed cable
Summary: This pair of headphones should be on top of your list if you are looking for a headset to use with your guitar amp. They are lightweight, and their sound performance is impressive. Its closed back design makes it a great add on for your studio sessions.
---
Audio CB-1 is also another quality pair of headphone for sound professionals. The sound consistency produced by the pair of headphones earns it a top spot in the pro audio community. The CB-1 is comfortable and also offers a wide-open sound for your various guitar sessions.
High-Quality Sound – The CB-1 doesn't use any modern sound technology, but the quality of its sound is recommendable. The sound stage offers impressive audio output which makes them an excellent pick for professional sound production.
The highs of this set of headphones will be clear hence assisting in removing any audio distortions. Its mid range is also incredible and well balanced allowing you to hear every single beat. Also, the over-ear design makes them an excellent pick for a guitarist. The design offers a passive voice hence ease of sound monitoring.
Noise Isolation- One of the main features to pay attention to when purchasing a pair of headphones for using with your guitar is its nose isolation capability. Its closed back design offers maximum noise cancellation.
Design – The manufacturer sticks with the unique over-ear design which is not ordinary. Its ear pads are thick and wrapped in leather. The pressure on your ears is minimal making them useful for prolonged use.
The ear cups are circular and have a golden ring. The rings are metallic which is hard to find in a pair of headphones at this price. An audio output cable connects to one of the ear cups. If you need to store your headphone, you can fold it hence taking less space.
Advantage
Comfortable and perfect fit
Amazing sound quality
Affordable
Durable and premium built
The sound stage is spacious
Disadvantage
Poor noise isolation
The midst are sloppy
Summary: Status CB-1 is a quality pick for sound monitoring and are affordable. The features of the headphones are way beyond its pricing. Its decently built and has broad drivers which offer quality sound.
---
The pair of headphones is for pros in the production industry and instrumentalists. If you are looking for headphones which would give you a quality sound stage, the Audio-Technica has it all. They are also comfortable and come with an over-ear design.
Design – The cable for this particular pair of headphone is detachable. Also, it's coiled just like most of the classic headsets which you can get in the market. The cable can stretch to give you an extra length and freedom to move around.
The ear cups are designed to offer maximum comfort and give a fantastic sound profile. It has thick hinges which hold the cups and connect them to the headband. 90-degrees can also tilt the ear cups for ease of storage.
Premium Sound Quality – The pair of headphone is well-known for its audio clarity which is suitable for a guitar amp. It has an extended frequency band which offers deep bass and crisp midst and highs. Also, its noise isolation capability improves the quality of sound you may receive. The circumpolar designs offer this sound isolation.
Comfortable Fit – The ear cups of the TH-M50XGM are made from soft leather which ensures one can use the headphones for long duration. The headband is padded with soft leather which makes them comfortable on your head. You can easily adjust the size of the headphone to fit appropriately on your head.
Detachable cable – TH-M50XGM comes with a cable which can be detached. In the pack, there are three different cables you can use. All cords have different sizes, and one is coiled for studio use. The detachable cable improves its safety and also makes its storage more manageable.
Advantage
Premium sound quality with powerful bass
Affordable
Detachable cable
Foldable for ease of storage
Comfortable fit
Disadvantage
The sound isolation can be better
Summary: The headphones will help in improving your sound monitoring capabilities. It's comfortable on the ears of a user and can be worn for long duration. If you are searching for a low priced headset, the TH-M50XGM would be a great pick.
---
The Beyerdynamic DT 770 is built with music professionals in mind. Its one of the best in this caliber and can be used on musical instruments like the guitar or studio production. Their comfort also makes music professionals use them since they spend a lot of time in the studio.
Sound Quality – Its production is in line with the reference and monitoring class which gives it the high-quality audio output. When you connect this pair of headphones to your guitar, you will enjoy the details in your strings. You can quickly tell the elements that would need additional tweaks or equalizer.
The headphone has a frequency range of 5 to 35,000 Hz which is expansive. It offers ultra-low bass which is useful for production and recording. Also, its noise isolation capability improves the sound quality of the headset.
Closed-Back Design – The headphone offers a circumaural closed-back design to cancel any external interference. It also provides a full over-ear design which improves the sound stage.
Built – Beyerdynamic offers designs which are almost similar for all its headphones. Most of the headphones differ only in the materials used. The headband is well covered in soft velour material which is thick enough.
The ear cups are also adequately padded with soft velour material. The material is soft on the user's ears, and the strain is minimal. The pressure on your ears is also sufficient, and it does not press too hard on your ears.
Advantage
Comfortable and perfect fit
Quality sound output
Amazing sound isolation
Quality material
2-Year warranty
Disadvantage
The midst of these headphones are laid back
The long cable which may be bulky for outdoor use
Summary: Do you need to get your audio balance and strings clearer? The Beyerdynamic DT 770 is a fantastic pick which will help you in monitoring your music even in low frequencies. Their comfort is also top notch, and you can use the headphones for long.
---
Are you looking for a stylish headphone offering quality sound output? The HD 598 Cs is one of the best picks you can get in the market with quality sound output, elegant design and also noise isolation feature. It's lightweight and made from quality material.
Premium Sound Quality – Sennheiser HD 598 Cs Headphones offers a well balanced and crisp sound output. The bass is deep and doesn't distort even as the volume increases. Its mids and treble are well balanced and will give a user detailed sound.
The soundstage in this design is impressive. One would expect the closed-back design would affect the soundstage. However, the soundstage for this particular model is impressive and offers clear highs.
Premium Materials – The quality material is well machined to give a stylish design and finish. Its transducers are made from aluminum voice coils. The coils deliver low voice distortion and quality dynamics.
Detachable cables – The headsets come with a detachable design. You can connect the cables you need to use. In the box, you will get a cable with a 6.3mm jack pin which is compatible with home theaters. It also has a cable with a 3.5 mm jack pin which can work with most devices.
E.A.R Technology – Ergonomic Acoustic Refinement is a technology created to improve the way these headphones deliver sound. It directs the sound output into your ear channel. It creates an in-room sound experience.
Advantage
Quality material
The audio quality is impressive
Durable design
Lightweight and stylish design
Comfortable
Summary: The HD 598 Cs is one of the headphones which offer a beautiful design. You can use them on your guitar amp or your entertainment purposes. The technology used to make the headsets give you a controlled music environment and you can listen to your favorite jams for more extended periods.
---
Things to consider when buying a headphone for guitar amp
---
Headphones have varying factors which make their performances to vary. For a guitarist, it's essential you have a pair of headphones. They can help you in monitoring the vocals or concentrate in your work with limited distractions. If you are looking for headphones to use with your guitar amp, they have to possess certain features.
Some of the factors you can pay attention to when purchasing a pair of headphone for your guitar amp include:
Noise Isolation – When playing your guitar, you need limited distractions. It will help you to focus more on the strings you are playing. It cuts off the external noise which may affect your concentration.
The best option for noise isolation is purchasing earphones with a closed-back design. It helps minimize the surrounding effects noises which may affect the audibility of your guitar's sound. It cuts down the risk of playing loud volumes which may damage your ears.
Frequency Range – Most of the headphones you use on your phone or music player have low dynamic ranges. These headphones can be challenging to use with your guitar amp. You should look for a model which offers high and accurate frequencies. A minimum of 20Hz can work appropriately with your guitar amp.
High-Quality Built – Some headset models may burn out your ears after using for some time. To avoid this, you can purchase a pair that would be easy on your ears. There are a few things that you can pay attention to when buying headphones.
The first thing to consider is the padding of its ear cups. The cups should be padded with soft and premium material. Also, the headband should be adequately padded to offer maximum comfort.
Impedance – Impedance is a factor which may affect the quality of sound produced if you connect your headset to a guitar amp. Impedance is the relationship between reactance and resistance. You need headphones with high impedance when playing your guitar.
Headphones with high impedance produce balanced sound with no blowouts. It lowers the chances of overloading when you play high frequencies. These headsets also are capable of producing precise sounds.
Cable – When it comes to cables, there are different designs you can get. Some have fixed cord, and other models come with detachable cables. You should consider having detachable cables if you travel a lot since their storage is more straightforward.
Headsets with detachable cables are easier to maintain since you can replace the cable if it breaks. Also, most models with detachable cables have more than one cable with different lengths and designs.
Price – How much are you ready to spend on headphones for your guitar amp sessions? For a standard pair of headset, you can get at the price range of $50 – $ 100. If you need sophisticated models, be ready to part with more than $150.
---
The Final Words (Summary)
---
This article gives you five of the best guitar amp headphones you can get in the market. These headsets have unique features which make them suitable for a guitar amp. All the headphones on our list have all these features making them appropriate for use with your guitar.
Also, when shopping for headsets, you may need assistance or a guide to help you choose. Our buying guide shows you what's necessary if you are looking for a guitar amp headset. We hope you can get what you are looking for from our list to improve your sound experience.