Audio Technica is a household name when it comes to headphones. They have been in the business for a long time, and they design great audio equipment that people enjoy. ​They are an affordable headphone option for people with limited resources that still want a quality product. The ATH-S700BT Headphone is a great choice for anyone who wants a good-looking headphone loaded with features. This Audio-Technica ath-s700bt review will cover what they offer and tell you if they are worth the investment.
Audio Technica ATH-S700BT Review
---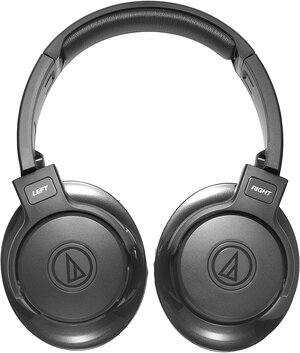 Features with benefits
---
Sound quality: These headphones don't make any compromises when it comes to sound quality. The 40 mm drivers are capable of delivering a frequency response range between 10Hz and 23kHz. This is a great range that covers the entire spectrum of sound. It also provides listeners with deep bass and an amazing mid-range frequency response. The impedance rating is 16ohms, which allows the headphones to be compatible with any audio source that delivers up to 50mW.
Performance: These headphones are the best in their category when it comes to audio performance. These headphones are extremely well designed, and they provide excellent performance. The bass response is deep and hits hard. The mid-range frequencies are clear and discernible, which allows the user to enjoy every detail of their music. The high frequencies are crisp and have a nice balance to them. They are not overbearing, and they provide great detailing. The headphones also have a wide soundstage, which allows you to enjoy the music with a feeling of spatial awareness.
Design and style: This Audio-Technica ath-s700bt is similar to other headphones in the 700 series. This model has a soft matte finish on the ear cups and headband. The design is made to be simplistic, but it still provides a stylish look. The silver accents add an extra touch to the design.
Fit and Comfortability: These headphones are extremely comfortable, and they fit like a dream. The headband is adjustable to help you customize them for the perfect fit. The ear cups are made from a super soft material that provides long-term comfort. The over the ear design also helps to keep external noises away from the listening experience. The swivel design helps to adjust the ear cups and the headband to any angle. These headphones are lightweight, and they barely add any weight to your head.
Portability: If you are looking for headphones that can easily fit into your travel bag, this would be a good choice. The foldable design allows them to fit into the travel bag easily. The lightweight design also comes in handy when it comes to portability.
Connectivity: You can easily connect the headphones to your Bluetooth-enabled device, and the Bluetooth range is around 33 feet. The Bluetooth connectivity enables you to listen to your favorite music without any wires in the way. The over-ear headphones come with a 3.5mm jack that is compatible with most devices. You can also use the 3.5mm jack if you want to connect them with your phone or music player that doesn't have Bluetooth connectivity.
ATH-S700BT Quote –
"Really good sound overall, very clear with a nice bass kick that does not overwhelm the rest of the spectrum."
– Editor
Durability: The design of these headphones is made to handle everyday use, and it provides exceptional durability. The swivel ear cups and the headband are made to last for a long time. These headphones feel solid in your hand, and the joints don't make any noise when you move them. They will serve you for a long time, and it is worth every penny if your budget allows it.
Compatibility: These headphones are compatible with most devices. You can use them with your smartphone, tablet or laptop. If you have an mp3 player, then these headphones can also be used for that. You can enjoy your music with these headphones without any hassle, and they will sound great in the process.
Built-in mic and controls: These headphones come with a built-in mic that allows you to take calls or control your music playback. The buttons are easily accessible, and they are placed in a convenient spot. The mic quality is decent, and it works well when you are talking to someone on the phone. The detachable USB cord also has a built-in button to control your music without having to take out your phone.
Battery life: These headphones work with a lithium polymer battery that can deliver up to 6 hours of continuous playtime and 200 hours of standby time. The USB cable is used to charge the battery in a short period of time. If you are a heavy user, then it is recommended to charge them before you start using them. The battery takes around 3 hours before it is fully charged. Charging the headphones multiple times won't have any negative effect on the battery life.
What's in the Box: When you purchase these headphones, the package will include the headphone itself, a USB charging cable and a 1.2 m detachable audio cable. There is also a user manual that comes with the package.
Best for: The headphone is best for those who want to listen to music while doing their workout. This ensures that you won't miss important alerts such as your children's calls or other important calls.
Disadvantages
---
The sound quality doesn't always live up to expectations. The sound quality is typically good, but it isn't anything extraordinary. The bass is fairly decent, but if you are looking for deep bass headphones, this might not be the right choice. These headphones also don't provide any noise cancellation feature, which means that the music you listen to might be affected by external noises.
Conclusion
---
If your budget allows it, then these Audio Technica headphones are worth investing in. The design is sturdy, and it will last for a long time. They are very comfortable to use, and the sound quality is also impressive. Bluetooth connectivity is also a handy feature that you can use to do away with wires when listening to music. These headphones are easy to use, and they will quickly become your favorite pair of headphones. You can now enjoy your music or take calls without having to take your phone out of your pocket. I hope this ath-s700bt review has helped you decide if the headphone is a good option for your needs. Enjoy the headphones!