JLab Audio offers wireless sound devices that provide high-quality audio. They boast of their Bluetooth headphones, which you can use for listening to music, videos, and much other stuff. But how to pair Jlab Bluetooth headphones is a topic which you might be interested to know about. The article is thus a detailed walkthrough of the process of pairing various JLab wireless headphones with devices. Here, we will also discuss common pairing issues you might face and their solutions and frequently asked questions. So let's get started.
How to Pair Jlab Bluetooth Headphones & Earbuds?
---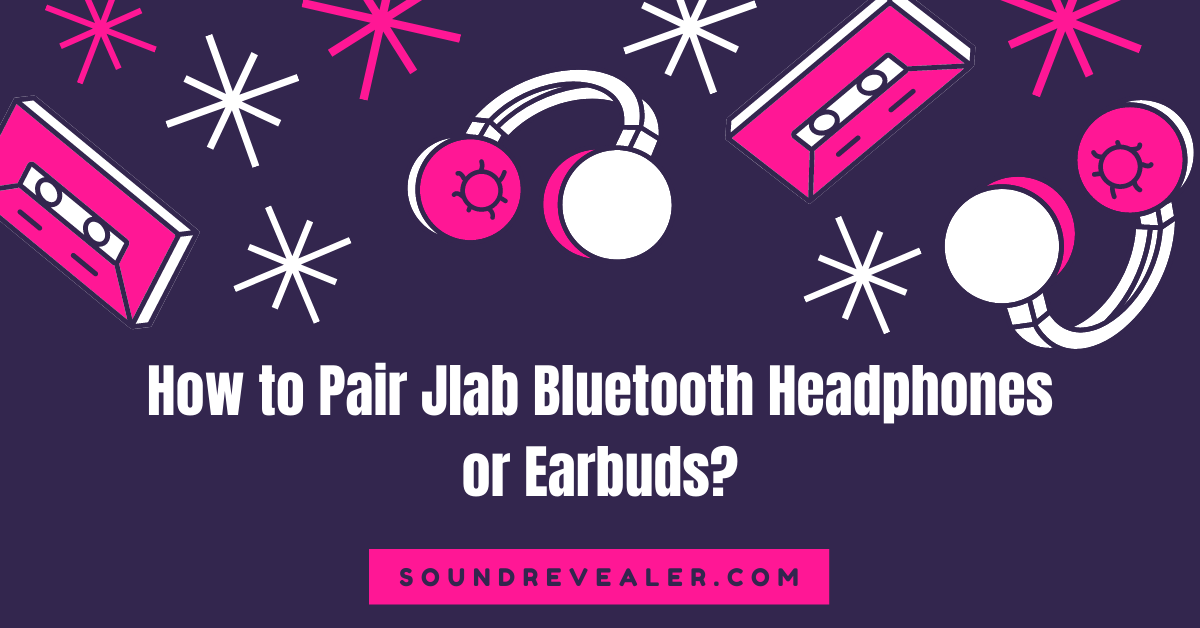 1. Pair Jlab Neon bluetooth headphones
You can easily pair your Jlab Neon to your Bluetooth-enabled device (phone, tablet or laptop). Follow the instructions below:
Please make sure the Jlab Neon is fully charged before pairing it. (The LED indicator should be solid blue when fully charged).
Turn on the Jlab Neon by pressing the power button for 10 seconds, and the LED indicator should be blinking red and blue. The flashing light means the Bluetooth is looking for a paired device.
Go to Settings on your device and turn on Bluetooth (phone, tablet or laptop). Your Jlab Neon should appear in the list of available devices, and make sure to select it.
The LED indicator of the headphones should be flashing slowly to solid blue once paired. You also hear a quick voice prompt telling you that you are connected.
Launch your desired application, and you are ready to play!
Note: If your device does not appear in the list of available devices even though the Jlab Neon is in pairing mode, please try reinstalling the firmware with Android and iOS firmware update tools.
2. Pair Jlab Jbuds Air
Hold both buttons down for three to seven seconds to power on the earbuds.
A white light will flash on the earbuds when they are pairing together.
Once the pairing has finished, the earbud will start to blink white and blue lights. This indicates that it is looking for a Bluetooth device.
Go to the settings on your device and turn on Bluetooth.
Find the Jbuds Air earpiece in your list of discovered devices and hit connect.
When they are paired, the voice prompt says, "You are connected."
3. Pair Jlab Go Air earbuds
The Jlab Go Air true wireless earbuds are designed to be used with the included charging case. For best performance, make sure both earbuds are fully charged before using. Then you will pair them with your device. Follow these steps to pair your earbuds:
First, you need to charge your JLab GO Air earbuds. To do that, plug the charging case into any USB port and let them charge for at least 2-4 hours before you try connecting them for the first time. The case will glow red while charging and turn off when it's fully charged.
Now you remove the pull tab from the charging case. The blue light of the charging case started to pulse.
When removing the earbuds from the charging case, one of them will blink blue and white. The light will blink to indicate that the device is ready for pairing.
Now you have to put your device Bluetooth on and set it to discoverable mode. Once your device detects the earbuds, you need to select them.
Once your Jlab Go Air has been paired with any of your devices, the earbuds voice prompt will tell you that "you are connected," and solid white lights will stay on.
Now insert your Jlab Go Air earbuds into your ears and enjoy music or anything else you like with the earbuds.
4. Pair Jlab Jbuddies Studio
The JBuddies Studio Bluetooth headphones are designed to connect to any Bluetooth-enabled device. These instructions will allow you to connect the headphones more easily and quickly.
First, make sure that Bluetooth is turned on to your device. You can do this on any Bluetooth-enabled device by going to Settings > Bluetooth.
To power on the headphones, hold the power button for 10 seconds. The headphones will begin to search for a Bluetooth signal, and the red/blue light will begin flashing fast.
On your device, Bluetooth settings should show "JLab JBuddies Studio BT" listed as an available device and waiting to connect.
Next, select the headphone in your device's Bluetooth list and click connect.
Once the headphone is paired with your device, a voice prompt will say, "You're connected." And the blue light will begin flashing slowly, indicating that the device has successfully connected.
---
Connect your JLab headphones to your devices
---
Android: To set up a new Bluetooth device, go to Settings and turn on Bluetooth. From there, in the Bluetooth menu, click "Pair new device." When your JLab headphones appear on the list, tap it, and the headphone will pair with your android phone.
iPhone: Go to Settings. Click on Bluetooth, and turn it on. Go to the Other Devices tab in the Bluetooth menu, and find JLab in the list. Tap on JLab, and it will be paired with your iPhone.
MACos: On your Mac, open System Preferences and then click Bluetooth. From the list of available devices, select JLab and click Connect.
Windows 10: Under the Settings tab, open Devices > Bluetooth & other devices and click Add Bluetooth or other devices. Select JLab and click Next until it is paired with the computer from the list of available devices.
---
JLab Bluetooth headphones won't connect
---
There are a few possible reasons why your Bluetooth headphones won't connect to Jlab. We will look at the most common reasons and their solutions next.
1. Firmware – The Bluetooth headphones probably have not been synced with your smartphone yet, or they might need a firmware update to sync with your music app.
2. Missing drivers – Sometimes, the drivers on your computer might be missing for the Bluetooth headphones you have purchased. To add the drivers, you need to visit your manufacturer's website and download them.
3. Not compatible with the smartphone – If you have an ios device, you could try to sync the Bluetooth headphones with your iPod before trying it on your AndroidAndroid or Windows phone.
4. Missing music app – If you have recently changed your phone's brand, the Bluetooth headphone might not be compatible with your new device. You can install a music app on your device to check if that is the problem.
5. Too many Bluetooth devices – If there are too many Bluetooth devices being used at the same time, you might experience poor sound quality or no sound at all when trying to play music with your headset.
6. Low battery – Your Bluetooth headphones might not be connecting to your device because they are running low on power. If this is the case, then plug it in to charge.
7. Your Bluetooth device is too far away from your music player – Bluetooth devices have a certain distance that they can work well in. If the distance exceeds what is set for your device, the sound will cut out or stop playing completely. The range is usually around 30 feet.
8. Device needs to be unlocked – If you have an Android phone, the device needs to be unlocked to sync. This can be done by turning the phone off and back on again or using lock screen apps that do not use tasks like Facebook etc.
9. Corrupt data – If the data on your phone is corrupt, you will have to reboot it. This can be done by holding down the power and home button for about 10 seconds.
10. Incorrect setting – If you have a Windows phone, you will need to make sure that your phone is set to stereo audio and not multiple active speakers.
11. No signal – Try turning on airplane mode and then try syncing the Bluetooth headphones again.
12. Bluetooth on the device is turned off – Check that your device's Bluetooth is turned on to solve this issue.
13. Broken headphones – If the device and the music player can sync, but you cannot listen to any music, then one or both of the headphones could be broken. If that is the case, you will need to get a different set of headphones.
---
Frequently asked questions
---
1. How to turn on my Jlab earbuds?
Answer: First, make sure they are charged and ready to go. Plugin the charger and wait until the charging light stops blinking. On the Jlab earbuds, there are three buttons (volume up, volume down and a multi-function button in the middle). Press and hold the multi-function button till you see a blue light flash. After a few seconds, let go of the button, and you will see a white light flash. You did it, now the device should turn on.
2. How to turn off Jlab earbuds?
Answer: To turn off JLab earbuds, Press and hold the multi-functional button for a few seconds. When you hear a beep, your earphones are now off. A voice  prompt will also confirm this.
NOTE: If you have the wireless version of JLab earbuds, your headphones will automatically turn off in 15 minutes if they are not connected to a device.
3. How do I reset my Jlab Bluetooth earbuds?
Answer: Jlab Bluetooth earbuds can be reset by holding the power button (the right earbud) for 10-15 seconds. To reactivate them, hold the power button for 10 seconds again until you hear a series of beeps and the earbuds are restarted.
4. How to charge Jlab headphones?
Answer: To charge the headphones, you need a USB charger cable. First, plug the USB end of your micro-USB cable into a computer or wall charger, then plug the other end into the port on your headphone. When the headphones are charging, the red LED light on the left earcup will flash. It can take around 3 hours for a full charge. When the LED light on the left earcup turns green, charging is complete. Once it is completely charged, you should take care not to overcharge the headphones.
---
The final words (Conclusion)
---
The guide has shown you on how to pair Jlab Bluetooth earbuds or headphones to your desired devices and resolve the common issues during pairing. Hopefully, you should not experience any problem in terms of pairing after reading the above. If you do, please let us know via contact page or the comment section below to help you further. We recommend you contact Jlab Support if you have any other questions. If you have got your suggestion, share it with us to make a better article next time.