High-quality vehicle speakers can add some depth and style to the sounds they generate and also boost your music experience. Nevertheless, the pre-installed vehicle speakers that come in your car might not be up to the standard of developing speaker technology. As a result, you will have to upgrade your car's speaker system to the latest speakers to improve your entertainment needs.
Car speakers usually come in a wide range of shapes, sizes, brands, and types. That means that getting the perfect options out there is not an easy task. Again, you would like vehicle speakers that match all the specifications of your car. Keeping in mind factors such as sound quality, power handling, and sensitivity, you can invest in some of the best car speakers available in the market.
Here are the best car speakers for bass and sound quality that you should consider when you want to improve your entertainment and have a wonderful music experience during your driving sessions.
---
What should I look for when buying car speakers?
---
1. Speaker sensitivity- The sensitivity of a speaker refers to the amount of power it requires to produce sound. Different speaker systems have different power specifications, and they also create different sounds. To get a good sound, you should match your low-powered car stereo with a speaker system with a high sensitivity rate. You can also connect your high-powered stereo with a low-sensitivity speaker system.
2. Frequency Range- The frequency range is one of the most important facts to consider when buying car speakers. The wider the frequency range, the better your speakers will be able to reproduce different frequencies accurately. A good car speaker should have a wide frequency response ranging from 60 Hz for bass and 4 KHz or higher for treble.
3. Size of the speaker- In general, car speakers for the rear and front doors measure approximately 9 inches by 6 inches, but you can also find speakers that are 9 inches by 6.5 inches. However, the biggest car speaker systems won't necessarily generate the best sound. The sound quality of your speakers is affected by various factors, and for some vehicle interiors, smaller speaker systems might perform better than bigger ones.
4. Impedance- The amplifier usually supplies current to your car speakers. The typical resistance that the car speakers give to this current flow is usually their impedance. According to experts, the lower the impedance of your speakers, the easier the current will flow from the system's amplifier to the speakers. As a result, your speakers will produce finer sounds.
5. Loudness- Loudness, instead of sensitivity, is not always the same, but it's measurable. Generally, the loudest speakers require less power, while a speaker with the lowest volume might require more power. Therefore, you should consider installing the loudest vehicle speakers you can get because they produce great sounds while consuming low power.
6. Power handling ability- Power handling usually refers to the power a speaker system can safely handle once it receives it from the amplifier. If the power received exceeds the power handling capacity of the speaker, it will become hot, begin to distort, and eventually become permanently damaged. Therefore, you should check the RMS ratings of a speaker to know its capacity when it comes to continuous power handling.
7. Quality of materials and durability- Installing a speaker system in your vehicle can be pretty expensive. For that reason, you want the sound system to be a long-term investment. To achieve that, you should purchase a car sound system made of some durable materials. Keep in mind that the quality of sound also depends on the quality of all these materials. Lightweight and stiff fabrics that can withstand humidity and weather changes are ideal for woofers. That's the reason why they're normally made from mica, polypropylene, and metal-coated woven materials.
On the other hand, you can get some tweeters made from soft cloth, graphite, metal, and ceramic. If you would like a refined sound, you can go for fabric-made tweeters. To get bright and higher tones, however, you can get tweeters made of harder fabrics. You can also select from rubber, cloth, or foam surrounds.
---
7 Best car speakers for bass and sound quality reviewed
---
The JBL is popularly known for delivering high-quality car speakers. If you are desperately looking for the best car speakers, then JBL GX600C will be a great option for you. These 6.5-inch two-way component speakers will offer you good sound quality, apart from having well-designed tweeters. These speakers have good cones that displace air with much ease, making them ideal for low bases.
Sound clarity- These car speakers ensure sound clarity with the preferred base effect. That's the reason why you can comfortably listen to natural and clear sounds from it. You can also enjoy good mids and highs with JBL GX Series.
Polypropylene cones- Unlike the other JBL vehicle speakers, GX600C comes with a polypropylene cone that's steady and also long-lasting. The area of the cone is also big enough for a higher bass. Since they are component and two-way speakers, the GX600C speakers are good when it comes to bringing the staging close. You can install the tweeters in different locations while the woofers can only be installed on the speaker's default locations.
Power handling capacity- These speakers have a combined maximum power handling capability of 420 Wattages. The RMS power handling ability of every speaker is 140 Watts. That means that the speaker system can effectively work with high-powered amplifiers without distorting.
Flexibility- The GX600C speakers have a perfect mounting depth of approximately 2.63 inches. That is a great addition indoors with space issues. This sound system also comes with mounting screws that enable the speakers to get fitted with your vehicles easily.
Advantage
They are low resistance speakers which means that the amp power is used effectively
The tweeter sounds clean
Smooth highs and High mids
Easy to install
Compatible with a lot of factory systems
Disadvantage
Does not hit low frequencies
Poor sub-bass
Summary:  If you are looking for a nice sounding audio system with high-quality features, this speaker produces excellent mids and highs, and they'll give you a pleasurable music experience.
---
Pioneer's TS-A series of speakers offer Mica and Carbon reinforced IMPP cones. Combining this with a long symmetrical voice coil and a magnetic circuit makes both a deep bass as well as low distortions. These speakers come with newly designed adapters that provide users with a wide array of installation options and assist in ensuring a well- balanced and controlled sound.
Sound quality- Big magnets stimulate the Pioneer TS-A1680F speakers and together they produce audio which is incredibly loud and has a presence above the car's engine as well as the outdoor atmosphere of driving. These powerful speakers are anchored by sturdy steel frames that provide them with the freedom they need to function freely.
Output handling- The Pioneer TS-A1680F provides users with impressive output handling. These speakers are durably designed and feature a bass or mid driver which produces accurately balanced sound together with the quality tweeters incorporated in the array.
Design and construction- These speakers are made utilizing high-grade fabrics, which provides you with more longevity than the one provided by normal paper cones. The speakers feature a lightweight, corrugated, and vibration-absorbing surround and all the tweeters are professionally designed to perform at its best even under the pressure of incredibly high-frequency waves.
The speakers can also handle high power, and a design change can be applied to the sound system. You can easily remove the lead wire and connections from the face of the speaker, giving your sound system a new clean look and also reduce the risks of signal noise and shorts as well.
Advantage
The speaker provides high output
It has a highly optimized bass
The speakers are incredibly loud
The speaker produces a well-balanced and full-range stereo audio
It has an impressive power handling capacity
The speakers are durable
Disadvantage
The high-frequency accuracy is not great
There's a lot of room for improvement
Summary: If you are a music enthusiast looking for a car speaker system, this sound system will be a great addition to your vehicle stereo.
---
The Kicker 43DS69304 is usually a 6×9 inch two-Way Car Audio Speaker. These speakers have great features and a long-lasting performance guarantee. If you are looking for a 6×9 inch speaker, the Kicker 43DS69304 model is worth your consideration.
Construction and design- All the components of this speaker are well designed, durable, and sturdy. They come with a polypropylene cone that vibrates volumes of air, a 1/2" PEI dome tweeters for high range frequencies, and it also incorporates an EVC technology. That means that Kicker company designed all these components to generate decent bass, as well as good sound quality.
Wattage- The Kicker, DS693 speaker system, has 280 watts of maximum power per speaker and approximately 140 wattages of RMS power per speaker. That is at the low end of wattage, but it's pretty impressive for the range of prices that this sound system falls into.
Installation- The installation process is fast and simple to complete, which means that you don't require any special tools. These speakers come with the hardware components you will require to install and secure them in place, and you can easily install the speakers on your own.
Sensitivity rating- The Kicker DS693 speaker has a high sensitivity of 92dB, which means that it will require less power to maintain a similar level of volume.
Compatibility- The Kicker 43DS69304 speaker is compatible with an array of vehicle models. These speakers can fit in many 6 x 9-inch speaker ports. They also come with a mounting depth of 3 and 1/4 inches and will be compatible with your vehicle as long as it has adequate port space to allow that.
Advantage
The speakers have great sound quality
They utilize a Neodymium magnet
They have 4 ohms impedance
The speakers are very durable
They have 30 to 20,000 Hz frequency response
Disadvantage
The speakers are a bit heavier than other speakers
They work much better with custom-built speaker box
Summary: If you are looking for budget-friendly car speakers that produce clear sound, the kicker 43DS69304 model is a great option for you.
---
These black colored and 3-way speakers are strongly built to offer the best quality. It is a perfect replacement for a stock installed speaker due to its 6.5-inch attribute. Nonetheless, every good music lover desires to have an upgrade, and here are some features that make this speaker worth the upgrade.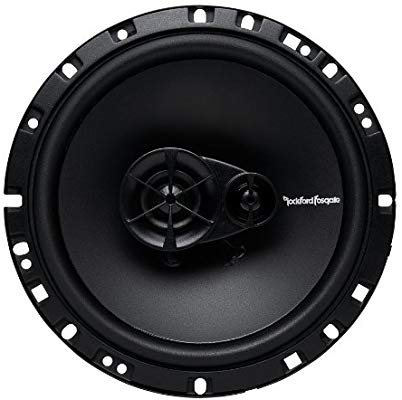 Design and construction- Whereas every one of these Rockford Fosgate R165X3 speakers is easy to acquire, they can't be of any worth if they fail to sustain a steady excellent performance over a long time of use. In ensuring that they are perfect in giving quality sound and long-lasting, the speaker's mid-range, tweeter, and woofer are of the best build quality. It has a silk dome-pole-mounted piezo mid and tweeter which gives loud and clear production even at high frequencies. The woofer is made of a vacuum polypropylene rigid, durable, and lightweight cone which gives a good base at low frequencies. This aspect makes the cone ideal for both the coaxial and component speakers.
Easy installation- Its perfect size and 3-way speaker factor make it easy to install. It requires you to replace the already installed with this Rockford Fosgate series. It can get installed in your vehicle doors or in the dashboard for better soundstage. They also come with mounting hardware, the likes of wires and screws, which makes it convenient for your installation.
Rubber encircling- This sub has a rubber surrounding that enhances cone performance for it allows cone durability and flexibility and better bass dissipation. This rubber also makes it more resistant to extreme moisture and temperatures.
Advantage
Highly affordable
Has sharp mid and high
Perfect build quality
Silk made a cone for outstanding performance
Has an integrated tweeter crossover for isolation of frequencies
Disadvantage
It doesn't have strong bass
The sound gets slightly distorted at high volumes
Summary: This Rockford Fosgate R165X3 is the best car speakers you need. They are popular due to their ideal performance, quality, and affordability. If you need an upgrade for a store-car-stereo system, you need Rockford Fosgate speakers to improve your driving experience with quality sound.
---
Polk designs and manufactures audio components and equipment for automobiles and home use. Some of their products include FM tuners, amplifiers, and headphones as well as speakers of all kinds: indoor, outdoor, and car, among others. And the Polk DB651 is one of the many popular products manufactured by this American company.
Body and design- The Polk DB651 speakers weigh approximately five pounds, making it incredibly lightweight and portable. The speakers weigh 8 x 4.8 x 14.5 inches in dimensions, which makes it compact as well. The Polk DB651speaker is made to look professional and bold with its unique wheel-like design. Every speaker is also covered with some ABS-inspired wheel grilles.
Power handling- These speaker systems have one of the greatest power handling capacities when compared to other speakers in their category and class. The speakers have an output of 120 wattages and an RMS of 360 watts. The optimized Klippel and Dynamic Balance Driver features of these speakers ensure that the audio output is great, crisp, and also free of distortion.
Durability- Polk Audio DB651, just like other marine speakers, is made to be extra durable and also resilient. These speakers can withstand salty air, water splashes, humidity, rough winds, and other harsh elements of weather on a day to day basis without breaking down.
Ease of use- The mounting of Polk Audio DB651 is flexible and stealthy as well. The speakers can fit into most 5 x 7 inches, 6 x 8 inches or 6x 9 inches. The tweeters in these speakers can also be swivel-mounted or flushed.
Advantage
The Polk DB651 speakers can be used on automobiles and marines
The swivel mount allows you to project and also aim the sound in any preferred direction
It comes with Kapton coiling that provides extra resilience at high temperatures
It's incredibly durable even under harsh conditions
It has a one year warranty
Disadvantage
Installation is easy
It has low bass efficiency
Summary: If you are looking for high-quality sound systems which are durable and provide fine sounds, then this speaker is a great option for you.
You can count the Pyle 6.5 Inch Mid Bass Woofer as an ultimate car speaker solution. If you are a car fanatic who prefers stunning interiors, then this speaker's bright yellow color coating is undeniably capable of satisfying your taste. 
Not to brag, but you can expect zero-break sound output due to the associated superior engineering works within the whole mechanism.
Excellent Sound Quality
Pyle 6.5 Inch Mid Bass Woofer Sound Speaker System is equipped with a 1-inch high-temperature aluminum voice coil, ensuring rich output. This aluminum voice coil also functions to control any overheating condition. 
However, this feature, in association with the woofer functionalities, also restricts any sort of distortion while providing smooth, loud, and detailed sound. Here, the respective frequency response is 60 Hz–20 kHz.
Higher Durability
The speaker system is designed to last for decades. Its surefire durability comes from the accommodating, non-fatiguing butyl rubber surround cover. We must notify you that the rubber is specially treated, and here, the impedance is 4 ohms. 
Additionally, the edge suspension, a rubber magnet boot cover, can withstand a higher level of vibration (300 watts of peak power) when you put the volume at maximum.
Other Superior Features
This sound system is comparatively lightweight, even though it accommodates a CD-P.P. Cone (weight: 30 oz.) for adequate stiffness. If you want to know the system's whole weight precisely, it is only 3.19 lbs. You can easily power up the woofer through its factory-made electric cord.
Advantage
Comes with a powerful capacitor.

Supports frequency range from tweeter to subwoofer.

The extracted sound quality can influence you to move physically with the rhythm.

Higher cost-benefit ratio.
Disadvantage
Installation work needs greater carefulness.
This sound system is a top-notch solution for your music-related enjoyment while driving. We see Skar Audio TX65 6.5″ 200W 2-Way Elite Coaxial Car Speakers' superiority in their high-bass feature housed within both 2-way speakers. 
The exclusive design and elegant black color are far more suitable to meet your needs regarding the car's interior.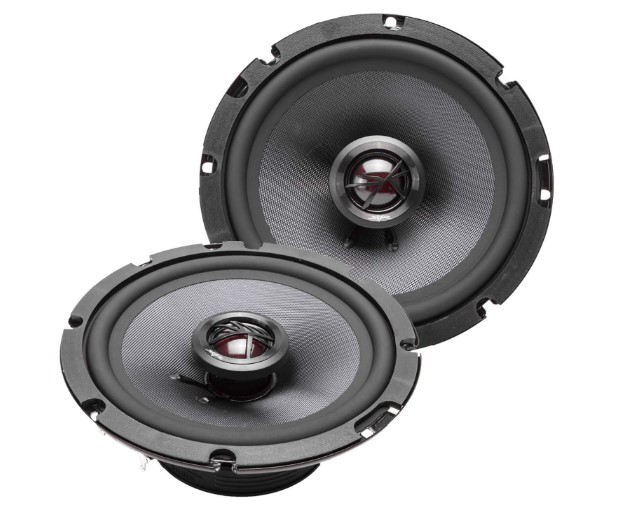 Quality Sound Outputs
The integrated 1-1/4 inch copper voice coil guarantees its high-performance outputs. Here, its tweeter acts as an additive component in the sound quality. We can see that its top-notch sound quality is also a result of the enabled power limits of 100 watts (RMS) and 200 watts (maximum). 
Finally, the product's finely tuned, ultra-responsive motor design is so lovely that it extracts all notes with perfect pitch and bass.
Cutting Edge Design
Along with its circular shape and various shades of black color, some other physical properties of this sound system may amaze you. First of all, its weight is only 6.4 due to the residing fiberglass cone. 
Second, the 5.57-inch cutout diameter and 2.51-inch mounting depth make it a perfect fit for ultra-modern vehicles. We highly recommend this product as an alternative to your car's factory-made OEM speakers.
Higher Durability
As mentioned earlier, it accommodates a 1-1/4-inch copper voice coil; this coil ensures an extended lifespan of the product by handling the generated vibration effectively. 
Also, the stiffness of the fiber dome cone is adequate to deal with any high-range output; there is nearly zero chance of getting cracks for the contraction and expansion due to the respective ups and downs in the outcomes.
Advantage
The sound reproduction maintains appropriate crispness.

Accurate and precise throwing of every single note.

You do not need to install any additional amplifiers.
Disadvantage
The sensitivity is lower (98 dB) than the standard.

You may need help dealing with the customer care unit of the business.
---
The Final Words (Summary)
---
A speaker system is the life of your car stereo. You will not only use the speakers for playing your music playlists but also for listening to your audio lectures or receiving phone calls through Bluetooth. Selecting a great sound system for your car's stereo might seem challenging, but with the car speakers and considerations discussed above, the task can be pretty easy and simple.
Just make a comprehensive list of what you need from your sound system and then look for the best car speaker for bass and sound quality that matches your needs and preferences. If you do not know how to install car speakers, talk to a professional to guide you through the process.