5 Best Wall Mount Speakers In 2019
---
Sound Revealer is supported by the online readers. When you buy through the links on this page that may make some affiliate commission for us. Learn more
---
Rank #1
Our Top Pick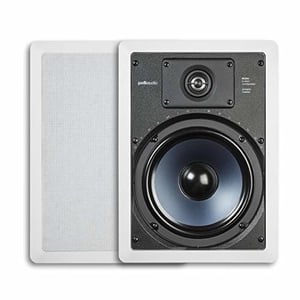 Music is life thus its clarity should be impeccable. The most convenient way to achieve audio synchrony whilst retaining your living space is by the use of in-wall speakers. You don't have to install enormous speakers for sound to resonate clearly in your home.
You only need to use the best wall mount speakers in the market for your home to have seamless audio quality. These concealable speakers will save you space and money while giving you a remarkable surround sound. This article will take you through five of the most reliable wall mount speakers available in the market.
---
A Quick Look at the Best Speakers for Wall Mounting
---
| Rank | Photo | Brand | Price |
| --- | --- | --- | --- |
| 1. | | Polk Audio | |
| 2. | | Monoprice | |
| 3. | | Klipsch | |
| 4. | | Silver Ticket Products | |
| 5. | | Acoustic Audio by Goldwood | |
---
5 Best Wall Mount Speakers Reviewed
---
These Polk Audio RC85i 2-way speakers are quite easy to install in your home or workplace. You only need to create a hole where the wires will pass through to the speakers. They are safely secured in place by rotating cams that enable off-axis listening positions for better sound production.
Dynamic balance- The Polk speakers have an 8" dynamic balance with a mineral-filled polymer-composite cone with a rubber surrounding for more depth in music. This helps to produce a seamless audio quality in your living room or work station.
Metalized soft dome tweeter- They come with a 1" dynamic balance soft dome metalized tweeter that has a swivel mount. You can achieve a well-balanced sound by aiming these tweeters in the direction of your choice. They give you an excellent sound reproduction that is crispy clear.
Moisture resistant- The material used on the RC85i enables you to use them safely in bathrooms, kitchens, saunas and even the patio. This is made possible by the rubber seal drives which also help to make them durable.
Ease installation- You will be able to easily install right out of the box. All you need to do is cut a hole to feed the wires and drop the speaker where it will be supported by revolving cams. Their removable grilles are paintable to enable you to blend with the walls.
Advantage
They are easy and quick to install
They are moisture resistant
You will save room space
They are unnoticeable on the wall
Disadvantage
You need to modify their intended position
Summary:  These are the choice speakers if you are looking for a pocket-friendly sound enhancement to your home. You do not need a technician for the installation so why not get your set today!
---
The Monoprice 3 way speakers will enable you to immerse sound sources in your entire home. They produce an airy natural sound with defined vocals and less distortion than traditional drivers. Their titanium silk dome tweeters are pivotal for increased clarity.
Removable grille- This will enable you to blend the speakers with the interior décor. It makes them a discreet solution to your audio enhancement.
Dupont Kevlar Fiber cone Drive- This is a lightweight Kevlar that is rigid and strong to produce clear bass. It provides less sound distortion than conventional drivers.
Titanium Silk Dome Tweeters- You will be immersed in detailed clarity of warm tones with defined vocals by these pivoted titanium silk dome tweeters. They give a good projection of surround sound.
Versatile- These Caliber speakers can be used as the main home theatre sound system in your home. You can also add them to the existing system as surrounds.
Advantage
They are made of aramid fiber which allows them to hit hard and handle more power than conventional drivers
Their titanium silk dome tweeter provides a clean, clear and crisp sound, they can produce clear highs and lows
They are easy to install with the help of simple hand tools
You can paint the metal grill to blend with your house interiors
This unit has an inbuilt tuner that helps you balance the quality of sound production
Disadvantage
You might have to make some structural adjustments to accommodate the speakers in the wall
Summary: If you have been looking for reliable In-Wall speakers then these Monoprice Speakers are a worthy choice. You will derive sufficient satisfaction from the quality of this product and its performance.
---
The Klipsch R-5502 In-Wall speaker produces rich surround sound for your music with it's left, right or center set up. It does not take any of your floor or shelf space since it is an In-Wall design that can be mounted horizontally or vertically.
Paintable grille- You can use any color you wish to blend these speakers to your home interior. This makes it a discreet addition to your home décor.
Pivoting 1" Triatrix horn titanium tweeter- This helps to elevate audio output while significantly limiting distortion. It produces crisp, rich and clear vocals around your home.
Dual 5-1/4" Cerametallic woofers- These can provide you with a high-quality bass sound of up to 300 watts without warping. They make you have the same effect as that of a home theatre.
Left, right or center channel use- This will allow you to achieve a full surround sound effect in your entire living room. It will enhance the audio clarity by providing a stereo effect.
Mounts vertically or horizontally- The essence of In-Wall speakers is to save space and allow flexibility. You can fit this speaker where you feel they fit well with the existing interior furnishings.
Advantage
You can save valuable floor space
They are easy to mount
You can mount them horizontally or vertically
They can be painted to match your interior design
They are durable
Can be used for all speaker applications
Usable as LCR speaker
The horn tweeter technology reduces distortion
Disadvantage
Slightly costly for a single unit
Some people may not find it easy to install
May does not function well if placed horizontally
Summary: If you want to have a clutter-free home theatre system then this one will serve the purpose efficiently. It will offer you good value for your money owing to its high performance.
---
The 652W Silver Ticket is a versatile sound system that will give you the effect that is similar to a high-quality home theater. It is a state of the art speaker that is durable and will conveniently bring music and movie vocals to life in your home.
HD sound- It has a mica polypropylene cone woofer with a rubber edge. Its 16.5 oz magnet provides a crispy clear sound that is free of distortion. This enables you to feel the movie's effects and music better.
Smooth solid sound- This speaker is equipped with a 20mm silk dome tweeter that produces silky-smooth vocals. The tweeter balances micro-tuning of the sound thus enhancing audio placement.
Solid structure – It has a robust rubber edge that enables audio accuracy and excellence. These speakers are moisture-resistant and can be used in kitchens, bathrooms, sauna, and outdoor eaves.
Flexible installation- You can easily install these speakers in your home without the need of a technician. They can be mounted horizontally or vertically to adapt to your sound requirements.
Advantage
It will save you space in the room
You can install it on your own
You can place it in any horizontal or vertical position
It is resistant to moisture
Summary: This is a sound system that you can integrate with your existing setup or start with. It will not cost you a fortune to achieve your desired audio clarity when you acquire a 652W Silver Ticket sound system so why not!
---
The Acoustic Audio R191 speakers are a worthy investment if you want to install a complete surround home theatre system. They can be used to enhance your sound system in the various homerooms including the patio, basement or office.
Versatile- These speakers can be used in various surroundings both indoor and outdoor. They will come in handy when you are throwing a party or get-together. You can install them on walls, ceilings or even in your sunroom without the worry of damage.
Weather-resistant- This makes them the best option when it comes to outdoor activities. They are equipped with butyl rubber surroundings to enhance performance and durability.
Easy installation- They have low profile housing designs that enable easy installation. Cut-out templates and integrated wall-lock mounting system with a 3" depth are included for easy installation. They measure a meager 6.625" thus do not take up much of your space.
Paintable frames and grills- This will allow you to choose a color that blends with the room and furnishings. It creates a nearly invisible finish to your wall and ceiling installation.
HD sound- Each woofer has a high rigidity polypropylene cone and produces a maximum of 200 watts output. They come with 12mm soft dome tweeters that help balance the sound to provide a highly synchronized sound production.
Advantage
It is weather-resistant
You can install it easily
You do not require much space to install
You can place it both indoors as well as outdoors
It is hardy thus durable
Disadvantage
Low-quality wiring
Can't use audiophiles
Low bass quality
Summary: You do not have to acquire a bulky sound system to attain high-quality sound effects. The Acoustic Audio R191 gives you the kind of sensational sound production you expect from a high-quality home theatre system at an affordable price.
---
Things to Consider when Buying a Wall Mount Speaker
---
There are various factors you should consider before purchasing In-Wall speakers. They include but are not limited to the following:
1. Sound Quality- This might require you to have a bit of technological apprehension as it is what will guide you to the best sound quality. However, you do not have to master all the terminologies regarding sound. You can easily determine the desirable sound produced by various models by simply listening. The best way is to listen to your favorite genre of music on these models to discern any variance. This way, you cannot be easily deceived by the sound of a new song on a new device since it will normally sound fabulous if the beats are good.
2. The Room- The size of the room you intend to install your new sound system is a crucial factor to bear in mind. There is no way a sound system that sounds good in a small space would sound the same in a large room. This is where you are supposed to keep an open eye to the watt output. If you want something for your house that can be installed in the bedroom the big speakers are out of the question. You also have to bear in mind that sound effects can be affected by room dimensions and its contents. With this in mind, you will be able to choose a device that complements to the intended destination.
3. The Actual Speakers- The types of speakers that are available in the market vary widely. There most common ones are; on or in-wall, in-ceiling, bookshelf, floor-standing, subwoofer, satellite, wired, wireless, portable and soundbar. You need to note that wired speakers are cheaper as compared to the wireless but come with the clutter of wires that could cumbersome.
The position you intend to place your speakers will help you decide the kind of device that best suits your desired expectations. It depends on whether you want them in or on the wall, floor standing, on the bookshelf before you make the purchase. The ones in the wall come with grilles which you can paint in the color of your preference. On-wall speakers are easier to install as you just need to hang them where you want.
The floor-standing and bookcase speakers come with drivers that help enhance the sound quality. However, they take up more space than others. Subwoofers go well with satellite speakers to create a compact sound effect while soundbars can be used to enhance TV acoustics.
Portable speakers are perfect for camping, trips and other outdoor excursions.
4. Compatibility- You should note the components of the speakers and compare them with what you already have. The amplifier or receiver should match to maximize power. You should clarify if the wireless speakers are compatible with the source music system you intend to incorporate them too. If you have Bluetooth then wireless speakers may be a better option.
5. Optimization- The speakers you acquire should be able to produce the desired sound quality when positioned properly. You should visualize the arrangement of their positioning at home and try to emulate this set up before you purchase it if possible. Some speakers function better against walls while tweeters and mid-range drivers sound better at ear level.
---
The Final Words (Summary)
---
This is just an overview of the basic approach to spicing up your entertainment arena from a layman's point of view. You are free to use your intuition in addition to what you have learned thus far to make an informed purchase of the best speakers for wall mounting.
You will not need to search far and wide for a perfect sound system as the ones mentioned here are the most suitable for home and workplace audio devices. It is up to you to choose from this top of the range models that are featured here.