EP on-ear headphone is Beats first effort towards the consumer computer and entertainment audio market. The best feature of the headphone is their bass, which is deep and powerful enough to make you feel it in your chest. In addition, It has an excellent build quality with flexible materials.
Finally, this comes with inline volume controls (something many other models lack), an auxiliary cable, and a carrying case for easy portability, making them perfect for any Beats enthusiast! This blog post will be an in-depth Beats EP Headphones Review that aims to help you make an informed decision about purchasing your pair.
A True Beats EP Headphones Review
---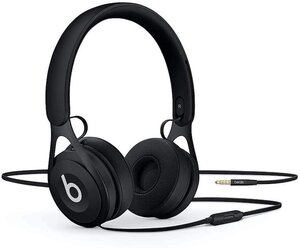 Features with benefits
---
Sound quality: EP offers good sound quality and more clarity in the bass, and it has a more fantastic frequency range. It provides a slightly greater bass level, and in fact, the bass is also cleaner than average. The headphone has immaculate and solid bass, providing all the boom needed without overwhelming like some bass-heavy headphones with poor quality. The bass on this headphone is tight and does not distort even at high volumes. The mids also have better clarity than some other models from Beats by Dre. The midrange in this headphone is also very clear and full sounding. It has a well-balanced sound stage that makes it superior to previous models from its lineup.
Performance: Beats EP headphone is one of the excellent products from Beats official store. The sound quality of this headphone is better than other on-ear headphones at this price point. The bass is whole and forceful, trebles are clear but not harsh (some headphones at this price tend to be very tinny), and the midrange is well-tuned for most pop music. Despite the decent sound quality, these are all about that bass.
Design and style: First impressions are always important. Their immediate impression is that they look great and have a relatively unique design that stands out against other products within their category. It is also more subtle and can be used in more places without attracting too much attention. EP is still very fashionable, though, and will look great when used with the right outfit. You can have them in black, blue, green, or red to match your style.
The Beats EP is built with a sleek, lightweight design for maximum comfort and an adjustable headband to fit any sized head perfectly. The lightweight design features closed-back, cushioned ear cups that provide passive noise isolation for more personal listening. It is stylish and beautifully made for its understated design and black color scheme.
Durability and Portability: Build quality is also essential because it tells you about the long-term durability and how well it can hold up to certain types of wear and tear, for example, frequent use when moving around from one place to another. While this is primarily plastic-based instead of metal or leather, this makes them lighter and cheaper to produce, which benefits the end consumer. The build quality shows that they are certainly durable enough for everyday use, even if you are a bit rough on your stuff.
The adjustable headband also provides increased durability. The portability of the EP is also a big plus. Their lightweight design at 7 oz makes it comfortable to wear for long periods, and you can also easily store it away in your bag for those times when you need to travel light. The carrying case with the EP is another plus because you can protect them well while not in use.
Beats Ep Quote:
---
Beats EP headphone is an affordable way to experience the headphone line pioneered by legendary producer Dr. Dre and today in-step with a younger generation of music-lovers. – Editor
Connectivity: The headphones come with an inline remote and microphone, making them an excellent option for anyone who wants to use their headphones with a phone or any device that accepts a standard 3.5 mm audio jack. The EP comes with an inline remote for universal cell phone operation, meaning you can change the song, adjust volume, and answer/end calls without having to dig out your phone. The microphone also provides hands-free calls for you to talk on the phone while wearing those headphones.
Built-in mic and controls: Their built-in microphone is suitable for making calls to your loved ones while away from home or work. It also allows you to control the music you are currently playing. You can also activate Siri or other voice commands with a button on the inline cable that connects to your phone for flexibility and control.
Beats EP builds for: This on-ear headphone is perfect for any music lover looking to feel the bass. They're also an excellent choice for people who want to listen hands-free and work with their computers, tablets, or smartphones. The headphone is lighter and easier to transport because you can store it anywhere. It is perfect for people who want on the go listening capabilities with their music player while out during their morning run or evening walk. They have a deep bass sound that is perfect for people who like loud music.
Disadvantage
---
One downside of this topper is that it does not have Bluetooth, so you will not connect with a mobile device wirelessly. It is also not waterproof, so you have to be careful about keeping them dry because it might get damaged if you don't.
Frequently asked question
---
1. Does the Beats EP have Bluetooth?
Answer: No, they do not have Bluetooth. This means that you cannot use it with any Bluetooth device; the only plug-in via USB or AUX.
2. Is Beats EP Noise Cancelling?
Answer: No, Beats EP is not noise canceling. EP headphones feature passive noise isolation and do not contain active noise canceling. Active noise canceling is a type of technology that removes the ambient sounds around you. Beats EP does not have this feature.
3. How long does the Beats EP last?
Answer: It lasts for a long time, it is more durable than any product in this price range, stylishly designed, and the sound quality is decent. Beats has been pretty consistent the past few years as far as product quality is concerned. It is the most durable headphone in its price range. The headphone design has been refined further when compared to other products. It is incredibly durable, which is one of its most noticeable features.
4. Do Beats EP break easily?
Answer: This can be a valid question for those who are unfamiliar with Beats products. The answer is no, and the headphones do not break easily. They will provide years of use if you take care of them properly, though how they're treated will vary on how well they maintain their quality.
Conclusion
---
Overall, it is a decent pair of headphones. The headphone has some unique features that you won't find on other expensive headphones. For example, it comes with a volume control remote and mic cable for smartphones. If you are using the headphone with your phone, then this is a fantastic little addition. It's a good mix of performance and aesthetics, which is about all you could want from a pair of cheap headphones meant to be used on the go. I hope this Beats EP review will help you make the right decision to buy this product. Thank You, please don't forget to share this article with your friends on social media.